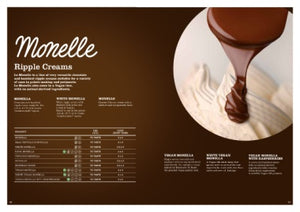 Vegan Monella: Chocolate and hazelnut ripple cream by Comprital- PC696 - 2 x 3KG Tub
$22538

$225.38
🍁Fast and Free Shipping across Canada on orders over CAD $199. CAD $25 shipping for orders less than CAD $199.
---
---
Vegan Monella: Chocolate and hazelnut ripple cream by Comprital- PC696 - 2 x 3KG Tub (Vegan, chocolate hazelnut topping, you get 2 x 3KG tubs per case)  Fast and Free Shipping Within Canada.

Le Monelle is a line of very versatile chocolate and hazelnut ripple creams suitable for a variety of uses in gelato making and patisserie. Ripple sauce with no ingredients of animal origin, made with rice flour and sunflower oil. Indulge. An exclusive recipe by Emanuele Di Biase, the greatest Vegan Pastry Chef.
Full-flavoured, creamy, rich in colour and taste: just as you always wanted them: comprital's ripple sauce range is designed to make your gelato even more special to meet the tastes of your most demanding customers and even to be used for high impact scrumptious cakes.  An exclusive range exalting your unique flavour combinations, allowing your creativity to express itself at the highest levels.
Le Monelle is a versatile line of chocolate and hazelnut variegates, suitable for ice cream and gelato applications. With their rich flavor and silky smooth texture, Le Monelle add that little plus to any frozen specialty.
---
We Also Recommend