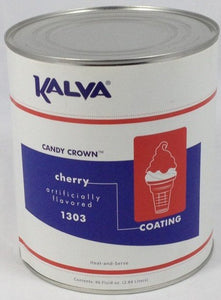 Kalva Cherry Cone Dip Coating #10 Can - KALVA 1303
$4298

$42.98

Save $24.39
🍁Fast and Free Shipping across Canada on orders over CAD $199. CAD $25 shipping for orders less than CAD $199.
---
---
Kalva Cherry Cone Dip Coating 1 x #10 Can - KALVA 1303
Best By Date = 06/22/2024
Kalva®1303 Cherry Cone Dip H
ard Shell Coating is designed to use in a warmer.  Kalva is known as the top of the line coating
. 
If you're searching for ice cream flavors that are not only delicious, but are full of creativity that's sure to catch the attention of your target audience, then you're in the right place. 
Do not heat the can over 105 deg F. The product will become too thin and will melt the soft serve too much extreme overheating can destroy the coating
Always use a thermometer to double check temperatures of both the soft serve and dip coating to assure proper temperatures
Our coatings are particle sized reduced so you get a nice smooth and texture and a natural mouthfeel
Applications: For Ice Cream Cones
Popular Cone Coating Mix Applications

• Soft serve ice cream
• Frozen custard
• Ice cream bars
• Yogurt
• Drizzle on sundaes
• Hand-dipped
cheesecakes
• Other specialty
desserts
• Liquid chip

---
We Also Recommend