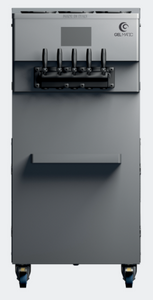 Gel Matic Etoile Gel Plus PM Vertical 3 Flavour + 2 Twist Soft Serve Machine - Pump Fed
$62,37504

$62,375.04
🍁Fast and Free Shipping across Canada on orders over CAD $199. CAD $25 shipping for orders less than CAD $199.
---
---
Gel Matic Etoile Gel Plus PM Vertical 3 Flavour + 2 Twist Soft Serve Machine - Pump Fed
Three-flavour vertical machine with two twists, pump-fed, with In.Co.Di.S. 2.0 technology, for the production of soft serve, express gelato and frozen yogurt.
TECHNICAL SPECIFICATIONS
Type: Vertical
Production system - PM
Production capacity - 70kg/hr
No of flavours - 3 + 2 twists
Cylinder capacity - 2x1,7 + 1x2,2 l
Control - In.Co.Di.S. 2.0
4D Remote Control - Yes
GCare Connect - No
This pricing includes an on site equipment calibration,  startup and staff training session.  The machine comes with a 90 day on site parts and labour warranty against manufacturers defects, a one year parts warranty against defects and a 5 year parts warranty on all major components.
Please note: Upon order, this product is fulfilled and shipped directly to you by the manufacturer or its authorized distributors.  All service, support and warranties are provided by the manufacturer or its authorized distributors.
---
We Also Recommend