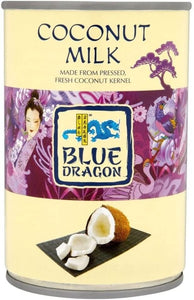 Coconut Milk - Blue Dragon - Foodservice - 6 x 400ml
$8623

$86.23
🍁Fast and Free Shipping across Canada on orders over CAD $199. CAD $25 shipping for orders less than CAD $199.
---
---
Coconut Milk - Blue Dragon - Foodservice - 6 x 400ml - Item Code ST-015421
Blue Dragon - Coconut Milk  is made from carefully selected ripe coconuts. Once the husk, coconut water and shell have been removed, the kernel is pressed to extract a creamy liquid and blended with water.
This creamy liquid is known in South East Asia as Coconut Milk. Coconut Milk is the mainstay of Thai, Indian and Caribbean cooking and can be used to add a mild, coconut flavour to sweet and savoury dishes. Coconut Milk can be added to hot curries to reduce their heat and adds a creamy flavour and texture to dishes such as soups. Along with Curry paste, Coconut Milk is a key ingredient in Thai Curry.
---
We Also Recommend