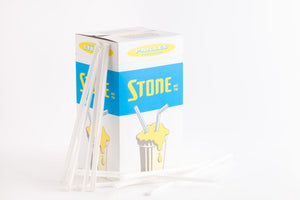 8" Milkshake Paper Straws Wrapped - 4 x 400 - Stone Paper Straws - Eco Friendly (total 1600 straws)
$10974

$109.74
🍁Fast and Free Shipping across Canada on orders over CAD $199. CAD $25 shipping for orders less than CAD $199.
---
---
8" Milkshake Paper Straws Wrapped - 4 x 400 - Stone Wrapped Paper Straws, Item #ST-031077 Stone Straw #

400300 - Eco Friendly Compostable Paper Straw (Total 1600 straws)




The original eco-friendly option. Our paper straws can be used & recycled, giving your business a positive & environmentally-conscious image that delights your customers.


Wrapped straws are key to hygiene & beverage safety. We offer a selection of wrapped straws, allowing you to provide the safest straw options to your customers.
Sell more than just a product – give your customers feelings of stewardship as they support purpose-driven products & business.


Free shipping across Canada on orders over CAD $199.  For orders under CAD $199, a flat fee of CAD $25.00  For custom printed cups with your logo and branding, please see information here.
---
We Also Recommend