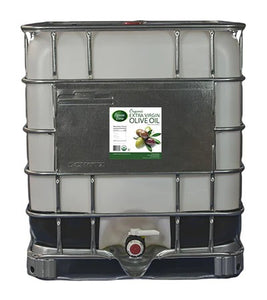 Organic Extra Virgin Olive Oil - Totes - Order By Pallets - Save Big
$15,98077

$15,980.77
🍁Fast and Free Shipping across Canada on orders over CAD $199. CAD $25 shipping for orders less than CAD $199.
---
---
Organic Extra Virgin Olive Oil - Totes - Order By Pallets - Save Big
Pack Size: 1/1/275 gal Units per case: 1
Delivered Pallet Price in Canada (275 Gal Tote) = $15980.77 (Price Includes Freight*)
Approx. Product Lead Time: 15 business days + Delivery
*We offer free shipping on pallets across Canada except for certain locations which may incur extra charge.  We will let you know in advance if the transport company is requesting additional fees to deliver to your location.
Organic Extra Virgin Olive Oil packed in a 275 Gallon Tote. USDA NOP Organic Certified. Tested and approved by a top olive oil testing lab for authenticity and purity.
Organic Extra Virgin Olive Oil is the first cold press of the olives, and it is the most premium grade of olive oil available. This USDA Organic Certified oil has a rich color and a bright, fresh olive flavor. This oil is great for every day use in dressings, baking, and cooking. The olive oil industry is fraught with adulteration.  Getting the lowest price often means you may be getting a lower quality olive oil, or sometimes even a different type of oil.  How can you avoid this?  Ask for 3rd party lab test which confirms the oil is exactly what it's claiming to be!  A Certificate of Analysis is not enough -- know for sure by getting results from a outside olive oil testing lab confirming that the oil you're getting is 100% authentic.  Every lot Centra Foods sells has been confirmed by a 3rd party lab -- do you know exactly what you're getting? Each tote is a hard plastic encased by an aluminum cage frame, and contain 2093 lbs of oil inside. The tote has a valve on the bottom front side used for dispensing, with a built-in pallet below.
Type of Product
Food
UPC
608729661689
Mfg Name
Centra Foods
Mfg Item #
10C275G
Vendor Name
Centra Foods
Vendor Item #
10C275G
Packaging
Plastic Tote
Industry Type
Foodservice
Industrial
Date Code Type
Best If Used By/before
---
We Also Recommend