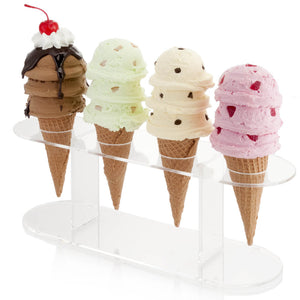 Ice Cream Cones Set on Stand - Fake Food Products For Display and Décor
$43027

$430.27
🍁Fast and Free Shipping across Canada on orders over CAD $199. CAD $25 shipping for orders less than CAD $199.
---
---
Ice Cream Cones Set on Stand - Fake Food Products For Display and Décor
Set of 4 Assorted Triple Scoop Ice Cream Cones on Acrylic Stand - Stand alone is 12" x 4" x 4.5"
This fake ice cream never melts or drips. From cones, shakes to sundaes, we have realistic fake ice cream treats. Perfect for home staging, props or any food display. Also makes a great gift for ice cream lovers. 
Yes, we can do custom fake food projects. We have provided custom food projects for small and large companies along with individuals looking for a single special piece. Let us help you. Please fill out the Contact Us form and we'll review your request. Provide as many details as possible. We will get back to you as soon as possible.  Thank you.
---
We Also Recommend