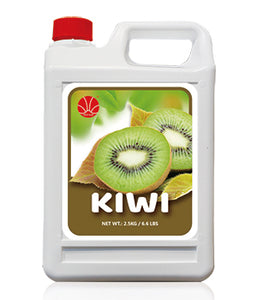 Kiwi Fruit Puree Syrup for Bubble Tea, Smoothies, Cocktails 5KG (11 Lbs) Jar
$8631

$86.31
🍁Fast and Free Shipping across Canada on orders over CAD $199. CAD $25 shipping for orders less than CAD $199.
---
---
Kiwi Fruit Puree Syrup for Bubble Tea, Smoothies, Cocktails 5KG (11 Lbs) Jar
Made from real fresh fruit ingredients, our premium fruit puree syrups are perfect for making bubble teas, fruit smoothies, fruit juices, flavored teas, ice cream and frozen yogurt flavoring & topping, shaved ice, slushes, cannabis and alcoholic cocktails. 
Grow your ice cream, bubble tea, frozen dessert business, coffee house, restaurant, smoothies and juice bar with free resources available at Fun Foods Central.  In addition, get FREE high res pictures, videos, digital posters and banners, marketing and new revenue ideas at www.funfoodscentral.com 

---
We Also Recommend